Systems! – I suppose many of you immediately thought about "software" – but if you stop and think for 10 seconds then of course you will realise that we start wayyyyyy before that!
Here is an acronym I discovered recently (you may have come across it before) – and it is the reason for the way the word is formatted in the image above:
Saves You Serious Time Energy and Money
which of course is the point of implementing systems in your business.  You want to save Time and / or Monday and also the Energy you have to expend on running the business.
As a small/solo business owner it is of course your own Time, Energy and Money that can be saved, but for larger businesses there can be correspondingly larger returns.  Think of the time wasted by 10 people!
I have a 90 day course for my club members called Transform your Business in 90 days?! (only available to club members).
If you have done this course you will recall that after we looked at numbers and customers we started looking at processes. Our standard operating procedures (familiar to many of you who have been in corporate roles) – how do we "onboard" a client, how do we do our marketing, send invoices, deal with complaints – and many more.  And to begin with, many of those processes will be
Paper-based (at best)
In your head (probably)
So the first step is to sit down and think about how you do things and "write them down" (You can use a tool like Asana or Miro if you prefer) – it's all about organising your thoughts and making sure nothing is missed.
And it doesn't stop there – because it is something that we need to do regularly (maybe once or twice a year) to make sure that our business still aligns with our processes!
Why we need processes in our business
To save time
To communicate with others who may be working with or for us.
To provide consistency and a great customer experience
Can you think of any more – maybe specific to your business?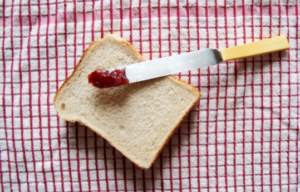 Let's drill into these in more detail (the significance of the above image will become clearer!):
1. Time – who struggles to remember how they did something "last time"? Who wastes time reinventing the wheel when they start to do something they don't do every day / week.
2. I once did an exercise (online) called the Jam Sandwich Challenge.  I asked a group of people to send me the instructions for "How to make a jam sandwich".  I then recorded myself in my kitchen trying to follow those instructions.  Most of them were "incomplete" (I am being kind here!) and relied on me knowing what things were and where to find them – and then didn't describe in sufficient detail how to actually spread the butter and jam etc.  How difficult is it to communicate to someone else what needs to be done in your business?
3. The customer has to be at the heart of everything we do – even if it's "internal" – always consider how your business processes impact on customers (and prospects and anyone else on the "journey")
As I said before – it might have been some time since you evaluated your processes – now would be a good time! And look at everything in the context of the above three points.
First of all, writing down (or using an online tool) your workflows and the processes is a must – and you can even write standard operating procedures if you are feeling particularly brave. Remember – time spent doing this will be won back at a later stage when everything is streamlined.  (remember that 10 minutes saved per day wins you back a whole WEEK during a year)!
Secondly – even if you don't have a team then you might want assistance from a VA or even a student on a placement. It's important that you communicate what you want them to do effectively. So you need to have that understanding before you start.  And if you do have a team, then it should be clear that consistent processes are essential.
To Automate or not to Automate
Once you are sure of your processes – and have reviewed and rewritten as appropriate – then (and only then) can you consider automation.  Not every process can (or should) be automated – but there will be many that can be digitised in order to scale, save time, money and so on.
Automation will save time and promote consistency – but you have to
a) Choose the right solution – for you and
b) Implement it properly
There needs to be a "Return on Investment". You need to consider your business case for expending time, money and energy on automation – which you need to get your return on.
None of this should be a surprise to any of you! I have written several blogs on the topic too.
Whenever someone asks "what software should I use" then my answer is always – it depends!
• On your business model
• On the size of your business
• On your budget
• On your goals for growth etc
• On how it is to be used
Business model – how does it operate – you know that – you have your ops manual
How many people – who else needs to be involved? (who's on the team)
Yeah – budget matters – but don't go for the cheapest!
What are your plans for the business – growth – change of business model?
And so on
There is then a whole process of identifying possible solutions and testing them – trial periods are essential! Make sure you make use of them – don't leave it till day 29. (read Evaluating Software for your Business).
If you are needing assistance in streamlining processes or automation then I am always happy to chat this through.  But don't forget to keep the Customer at the heart of everything you do.
Get in touch with me if you'd like to chat.