Hello and Welcome!
I am a business coach and consultant who works with small and solo entrepreneurs to help them reach for success in their businesses.
I graduated with a degree in Psychology from the University of St Andrews and then entered a corporate life in business analysis and production planning for the pharmaceutical industry. I later spent some time contracting with Royal Bank of Scotland and realised that running my own business was the pathway I wanted to take. My experience in production planning led me to believe strongly in "process" as a means to deliver business success.  In 2020 I added the Neuroscience Professional Development Programme to my qualifications – a British Psychological Society approved CPD programme for coaches.
After starting my first business in 2002 I worked with over 100 clients, some small businesses, and some larger corporates, to deliver software implementation projects and demonstrated that the success of these projects depended strongly on the people and processes and not simply the software systems.
My latest venture – catcripps.com – has been founded in order to bring these years of experience and expertise to small business owners who wish to achieve more – in their businesses and in their lives. Years of running my own businesses enables me to guide others to avoid some of the mistakes I made, and find the right path more quickly. I am creative, adaptable and a great problem-solver and my years as a volunteer in many different roles has strengthened these skills even further.
When working with clients I believe in a collaborative approach and building a partnership. My signature programme "Transform your Business in 90 Days" enables entrepreneurs who are too busy with all the minutiae of running a business to understand how they can get their business running effectively and efficiently so that they can enjoy delivering their products and services again.
I believe in a relaxed and "fun" approach which makes clients feel safe and able to share their fears, hopes and dreams. Clients can enter a membership group programme or work 121 with me as their needs dictate.  
Are you interested in making a change?
Keen to get started?  Download this free PDF – 7 ways to improve your Customer Journey – which will help you to win and retain more profitable clients.  You can also opt to receive occasional updates relevant to you and your business.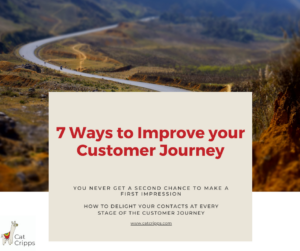 Charity Partner
I am proud to be an ambassador for The Uphill Trust – a very small charity which supports grassroots education in Uganda.
My own personal development
I believe in lifetime learning and during lockdown I completed The Neuroscience Professional Development Programme – a CPD programme delivered by Dr Lynda Shaw and approved by the British Psychological Society.
This programme built on my MA in Psychology and enables me to apply neuroscience in my daily interactions with clients.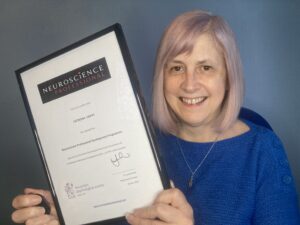 I sought help from Coach Cat Cripps when I was struggling to find ways to expand the support base for our very small charity. Cat is easy to talk to, listens carefully and asks insightful questions. With her help I was able to adjust my thinking about some of the challenges faced by volunteer charity trustees in a zero overheads organisation. It is always valuable to receive non-biased, independent feedback - whether this is on an organisational or personal level - and Cat has the skills needed to do this in a friendly and encouraging manner. Highly recommended.