We are (at the time of writing) about half way through the "summer" – although in Scotland the schools will be going back soon!  The summer break can give us some opportunities and some challenges, depending on your business and on your personal circumstances.
More work
For some – the summer season may be their busiest time – hospitality, the wedding industry, ice cream manufacture – the "sunny" summer months are peak season!  If this is you then you are probably already insanely busy, and the biggest challenge this year (2022) seems to be staffing (in the UK at least).  In this post-covid world the demand is certainly surging in the summer tourism season.  Make sure you are keeping tabs on your metrics – where customers are coming from, who is most profitable etc.  Understanding who your ideal client is will help you plan for next year.  You may be turning business away – consider how you can best manage that – and maybe keep in touch with them for future sales.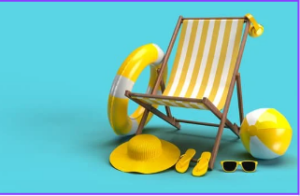 Less work
For others, demand dwindles in the summer, as everyone jets off to exotic locations (or Saltcoats).  It can be very frustrating if you are not going away to have emails unanswered (or the dreaded out of office message) and to be sitting wondering what to do with yourself.  Wonder no longer!  You have choices!
You can take some time out yourself.  You may not want to enter the hurley-burly of school holiday time but you could just take time out to enjoy your garden, or go for walks or whatever makes you happy.  
You can take the opportunity to make changes in your business. Here are some ideas:
New product development – what does your market want or need?

"Productisation" – let me know if you need the document on this again

Declutter!  Either physically or digitally – or both.

Training – online or in-person if you wish.  It can be a great time to upskill or consolidate your learning while there is less work to distract you

Planning!!  As you know, I don't believe that planning is a once-a-year activity.  You can always review plans and reset your course.  
Alternatively:
Just chill!  Spend some time in the garden when the weather is nice.  Or take the kids somewhere, or just Do Nothing for an afternoon.  
Take a complete break
It may be that for whatever reason (partner is a teacher for example) you just HAVE to take time off in the summer, whether your business is flat out or not.  In which case, having set up systems and processes for your team, you will be able to go and enjoy your time away, won't you?  If not, well you have a goal for next year – to get organised so that you can leave the business for a short while.  If the business IS you then you can probably manage client expectations, or perhaps find someone to cover for you in an emergency.  Either way, you should never be in the situation where you cannot take time out.  
The challenge for parents and carers
For some, the summer holiday means relentless juggling and trying to find affordable childcare.  In some instances you may just have to plan for some downtime – and use that time to recharge your own batteries too.  It is (really!) not necessary for children to be entertained all the time either – and you don't have to spend a fortune on days out.
Whatever your situation I hope you have been able to make the most of the summer to recharge yourself and your business.
As always, if you would like to talk more then please do Get in touch.
Copyright 2022 Cat Cripps.